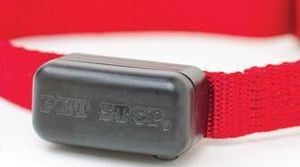 Pet Stop collar/receivers...
a better breed of pet fencing.

EcoLite Receiver.

Your pet will hardly notice the EcoLite Receiver- unless they move into the restricted zone. Pet Stop designed the Ecolite with your pet's day-to-day comfort in mind.
Each receiver can be individually programmed to meet the specific personality of your pet. They have also built several features into their receivers to help reinforce the initial training your pet receives.
Safety Stop.

If your dog ever gets trapped in the signal field, only Pet Stop receivers will shut off and remain off until your pet is safely out. Other products off a similar feature but none as comprehensive as the Pet Stop receivers.
Warning Field Security.

If your pet comes too close to a restricted zone, they receive a warning tone. Unlike other systems, Pet Stop can gradually increase the correction level until they retreat. This reinforces the initial training and conditioning your pet receives.
Re-chargeable collar only from Pet Stop.
Your pet never seems to run out of energy and now you'll never have to worry about running out of costly batteries. EcoLite's environmentally-friendly built-in rechargeable power pack lasts up to 25 years, for less of a toll on the planet and your wallet. And because the EcoLite doesn't require bulky external batteries, it's incredibly small and lightweight.

Peace of mind.
Your pet is in safe hands with Pet Stop. Their systems are designed to make sure that your pet is always safely but securely being given the right amount of correction. Enough to contain, and no more.
Flexibility.
From adjustable settings made by you, to receivers that work with other brand systems on the market, no one is more committed to finding a solution that works for your unique needs than Pet Stop.
Service and Support.
We believe that it is crucial to know your Pet Stop system is working. If youhave any questions or need service you can count on Proline Hidden Fence to have your problem solved quickly and with care.
Compatibility.
Our receivers are fully compatible with our Indoor and Outdoor transmitters as well as most competitor systems.
Ultra Max Receiver.
For more determined breeds we offer the Ultra Max receiver with the most effective correction level on the market. If we find your dog requires this collar we provide it at no additional cost.

Pet Stop transmitters...
cutting edge technology.

Pet Stop Outdoor Transmitter.

Like the receivers, Pet Stop transmitters are on the cutting edge of technology. They've made customization and ease of use a priority. Pet Stop gives you the simplest ways to make sure your electronic fence system is up and running. Pet Stop's FCC approved transmitter produces their

unique digital modulation technology signal. It is also the programmer for all of their receivers. As you will see, the transmitter is more than just a box on the wall.
Temperature Safe.

All Pet Stop transmitters are designed to ensure the signal field will not change regardless of the temperature outdoors. This is an important feature incorporated in all Pet Stop transmitters that not all competitors offer, just another example of superior design working for you and your dog.
Digital Display.

All Pet Stop transmitters feature an easy to read digital display that, when lit, lets you know that your unit is working. More importantly, you'll know exactly where your field is set. No guessing or having to call a service rep, the digital display lets you know 24/7.
Compatibility.

Our outdoor transmitter is fully compatible with our indoor transmitter and most competitor systems.
Clear Communication.
Pet Stop systems will always keep you in the know. They have designed their systems with clear displays and feedback so you know the status of your systems at all times.
Already Have a System?
Use your existing wiring with Pet Stop's superior technology. Pet Stop transmitters are compatible with most of the current competitors systems on the market today.
Reliability.
From stronger signals, to a wire break warning, to storing your customized settings even when there is a power outage, Pet Stop is devoted to ensuring your dog's safety and your peace of mind.
Indoor Transmitter
...
a discreet indoor solution to pet containment.

Many people think of electronic dog fence systems as strictly an outdoor affair. But Pet Stop has a solution when your dog is indoors as well. Using the same highly customizable system, you can specify those places in your home that are free range and those that need to be pet-free.
Pet Stop's indoor system is so accurate that it can have zones as small as only a few feet. This keeps dogs away from things like valuable pieces of furniture while still allowing them access to a room.
Typical Indoor Uses.

Try the indoor unit to keep your dog out of a room or away from a sofa. In the kitchen, it's useful to prevent trash can robbery or grabbing that morsel from another pet's bowl. When used under floor boards, it can prevent your dog from accessing a dangerous area or object.
Compatibility.

Our Indoor Transmitter is fully compatible with our Outdoor Transmitter and most competitor systems.
Proline Hidden Fence of the Triad (336) 816-1175